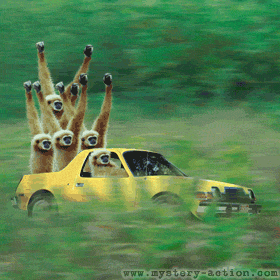 Juan Montoya's win was hardly a big surprise He did a great job and his fans [above] are jumping for joy!! I gotta hand to Jamie McMurray for his awesome run and his attempts to keep Monty behind him.

What was a surprise was seeing both Jeffy and JJ work their way up front with pit and fuel strategy. Especially Gordon getting up there so early on. As far as road races go, this one held my interest. The fuel wizards were in charge!!

Things in the point standings should be interesting later this week.

Now on to New Hampshire!! We only live 3 hours from there and I'm trying to get tickets for September's race. We feel like we got robbed at Pocono so have decided to do two races this season and Loudon makes the most sense.